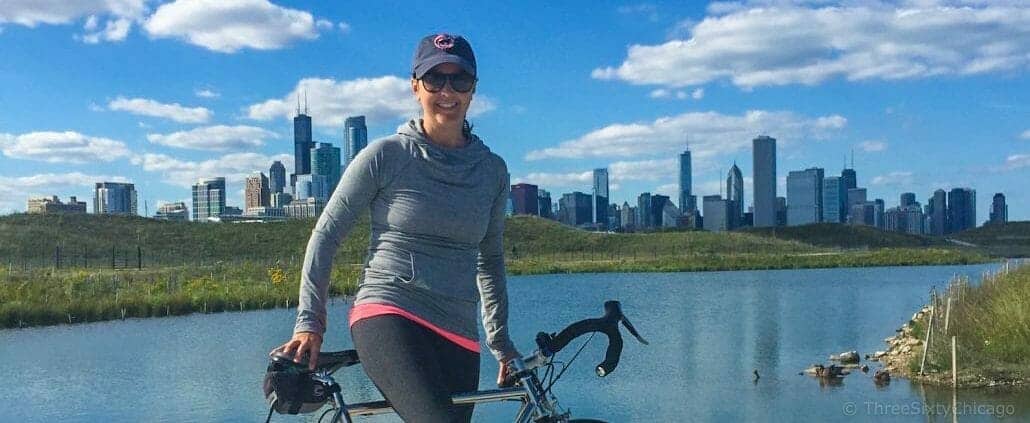 Best Bike-Friendly Neighborhoods in Chicago
With spring around the corner, most Chicagoans start to get that child-like excitement again about Chicago's second-most popular form of mass transit: biking.
For those of you reading this whilst wearing your favorite cycling gear in anticipation, get ready because soon you'll be out there cycling around the best bike-friendly neighborhoods in Chicago. If you've been wondering where to bike in Chicago, this provides some great ideas to get you out there.
We selected the best bike-friendly neighborhoods in Chicago according to a few criteria. Including availability of parks, trails, bike shops and repair/maintenance. Some of each neighborhood's score also came from their intangibly subjective je ne sais quoi; that ineffable vibe you get in certain places that just feel right.
Let's get rolling!
Here Are The 8 Best Bike-Friendly Neighborhoods In Chicago
1. Lincoln Park
Topping our list of best bike-friendly neighborhoods in Chicago is Lincoln Park. It's arguably one of Chicago's biking meccas. Certainly the park itself is an alluring sight. However, many riders love cycling through Lincoln Park because of its relaxing mixture of scenic residential streets, stunning lakeside trails and ubiquitous bike paths. Plus an abundance of great eateries.
A fun note about Lincoln Park is it's one of Chicago's greenest areas, so you're virtually guaranteed a beautiful spring ride.
The only downside to the area is it's lack of repair or bike shops relative to our other entries. Plus those shops you find might be more expensive than shops in other neighborhoods where commercial rent rates are lower. Explore Lincoln Park.
2. Lincoln Square
Next on the list of the best Chicago neighborhoods for cycling is Lincoln Square. It's almost an exact opposite of the first Lincoln on our list.
While the area excels in both repair stops and bike shops, there's a noticeably lower amount of green space and parks to enjoy cycling.
One advantage to this is less traffic. So you'll probably have a more private ride through some of Chicago's historic neighborhood's nearby like Ravenswood, Budlong Woods, and Bowmanville. More about Lincoln Square.
3. Hyde Park
Hyde Park is the crown jewel of Chicago's Southside and consequently a biker's paradise. There are parks galore in the area, including Promontory Point, Bixler, and the 57th Street beach.
And shops abound in the area as well, so here it's easy to buy yourself a new ride or simply fix a lingering issue. You might find need for one of the local repair shops too, since there's simply so much to look at and experience. The only downside is it may be a less convenient access for many Northsiders.
4. The 606
Okay, it's not a neighborhood but we would be remiss if we didn't mention The 606 somewhere in this article. The 606 is a former rail line now serving as an amazing 2.7 mile multi-use trail that's popular for cycling. The 606 is easily accessible from several of the neighborhoods on our list including Humboldt Park, Logan Square, Wicker Park and Bucktown. It's on our list of where to bike in Chicago for good reason so go ahead and get your kicks on The 606.
5. Humboldt Park
Humboldt Park lands in the middle of the pack of the best Chicago neighborhoods for cycling. Sure, it doesn't have a ton of parks spread across the neighborhood, but in all fairness the huge park that is it's namesake literally is most of the neighborhood. A big plus, and the reason Humboldt Park is on our list of the best Chicago neighborhoods for cycling.
Humboldt Park is easily accessed from nearly anywhere in the city and has lots of bike lanes generously scattered about.
6. Logan Square
Logan Square is included on our post about the best bike-friendly neighborhoods in Chicago because they're all about options, baby.
This is arguably one of the best Chicago neighborhoods for biking and for shopping. Here you'll find a bunch of shops for bikes, gear, parts, tires and outfits. As you also will in nearby Bucktown.
Even though Logan Square is a great place to buy bike stuff and access The 606, the rest of the neighborhood is not necessarily the place you'll be trying it out. What it offers in bike commerce it lacks a bit in bike paths and parks. Not to say you shouldn't give it a go sometime, just be conscious of traffic and where you're going. Logan Square has some gorgeous streets with stunning historical property. Well worth a Sunday ride when vehicle traffic is lighter and people are out and about. Find out more, in our article about The Best Reasons To Buy In Logan Square.
7. East Rogers Park
On the proverbial other side of the world form Hyde Park is East Rogers Park. It makes the list because of its breathtaking views of Lake Michigan. These views can be enjoyed from nearly every one of the parks that dot its boundaries. You'll be in luck if you need to stop to make a quick fix to your ride. East Rogers Park makes our list of best bike-friendly neighborhoods in Chicago partially because of its excellent bike repair shops.
Another bonus is its proximity to Evanston and Northwestern University. Both great detours out of the city. And they offer easy access to the Metra if you'd rather not cycle back home. Assuming all that riding and sightseeing gets you hungry, Rogers Park has plenty of delicious restaurants. One downside is, like Hyde Park, simply getting here may be a challenge. More on East Rogers Park.
8. Kenwood
Our final entry on the list of best Chicago neighborhoods for cycling is one of the city's lesser known neighborhoods. Just because it lacks the fame of the heavy-hitters on our list doesn't mean it's not worth it. Kenwood is renowned for excellent bike lanes and a truly established cycling community. Though it leaves something to be desired in terms of green space, Kenwood does have some well-manicured smaller spaces. For example, Kennicott Park is worth a relaxing trip or midday picnic. One thing to note, Kenwood is "BYOB for bikers": there are no options for purchasing or repairing in the area.
Find out more about Chicago neighborhoods for cycling and rides you can join at the Chicago Cycling Club. Or for a deeper look at where to bike in Chicago visit Chicago writer Greg Borzo's website. We highly recommend his book entitled Where To Bike In Chicago.
Thanks for reading! If you're getting ready for the spring market and hoping to move into one of the best bike-friendly neighborhoods in Chicago, contact us. If you're thinking of buying, check out our Chicago Home Buyer's Guide or if you're considering renting, learn about our Renter Services. Regardless, we'll get you going in the right direction!
https://bestchicagoproperties.com/wp-content/uploads/2018/04/best-bike-friendly-neighborhoods-in-chicago-1030x434-1.jpg
434
1030
Jeff Payne
https://bestchicagoproperties.com/wp-content/uploads/2012/03/logo.png
Jeff Payne
2018-04-30 03:00:42
2018-11-12 08:03:36
Best Bike-Friendly Neighborhoods in Chicago