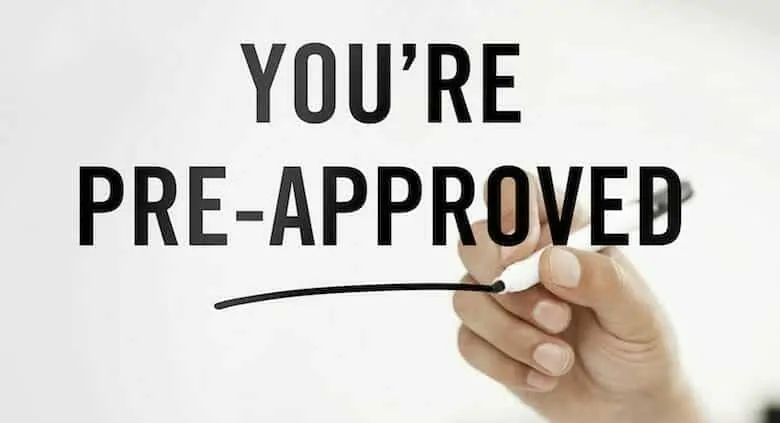 Get Pre-approved For A Chicago Mortgage
Warm weather is the starting pistol signaling the beginning of Chicago's busiest real estate season. As you read this many sellers are already preparing their homes to list for sale.
So buyers now is the time to get pre-approved for your Chicago mortgage!
Best tips to get pre-approved for a Chicago mortgage
If you're looking to purchase a home in todays market, especially if this is your first time doing so, you'll want get ready to compete with other buyers for the best properties.
Bring your A-game
Luckily for you, we've compiled our experience and reached out to one of Chicago's premiere lenders Matt Tierney at Guaranteed Rate for his thoughts. We asked Matt about the best way to get pre-approved for a Chicago mortgage.
Matt's first tip: Get ready to bring your A-game!
What it means to be pre-approved
It's simple. A lender has examined your finances, credit history, and a few more details.
They want to know that if they lend you money, that you're in essence, good for it.
Certain terms like interest rate and total amount will vary depending on what the lender finds.
They'll provide a pre-approval letter for you to give your real estate broker. Who in turn submits a copy with any offers so the listing broker and property owner know you're the real deal.
Start the process now
"The most important thing I tell my clients is not to delay this step. The sooner it's done, the sooner they can get in the game. The call to action is key: know your numbers ahead of time and don't wait until the last minute."
Matt's 100% correct. As real estate brokers, we inevitably meet clients who don't yet have a pre-approval letter. This gets frustrating for novice real estate brokers and distracted veterans who miss checking on this step. A client without their letter is a client who's got minimal negotiating power.
The best method to get pre-approved
Since one of the most common reasons clients give for not getting pre-approved is time, we asked Matt what makes Guaranteed Rate's system one of the best ways to get pre-approved for a Chicago Mortgage.
"We use a joint online and phone-based pre-approval system to maximize efficiency. Our Red Arrow Express system asks prospective buyers to upload a few documents. For example, W2 pay stubs, tax returns, bank statements, etc. And assuming those documents are on-hand, the online portion takes about 15 minutes. Then we follow up with a quick phone call, about another 15-20 minutes. Finally, if everything lines up, our buyers are pre-approved within a few hours."
Better your negotiating position
For first-time buyers, it's worth noting desirable Chicago real estate moves quickly. Getting a lender ready to move as fast as you are could be critical to securing your dream home. Being pre-approved is a great advantage. And if you're a first-time buyer looking for more advantages, read our article The Best Tips For First-Time Home Buyers In Chicago.
"Many people don't realize 35% of their credit score is based upon their available credit."
But what about buyers who worry about their credit score? In that case, what's the best way to get pre-approved for a Chicago mortgage?
"The simplest tip to improving your credit score is paying off your credit cards. Especially the high-balance ones, before your next bank statement," states Matt. "Because the computer risk model basically takes a snapshot of one moment in your credit history's time based on your most recent statement, paying off any credit you're using will play a big role."
That certainly seems like one of the best ways to get pre-approved for a Chicago mortgage, but let's push the envelope a little further.
What about errors on your credit?
Matt doesn't miss a beat:
"All reasons to do this now. Errors on a credit report are fixable but generally take 60-90 days. The sooner a client knows about it, the sooner we can do something about it. What's key is that clients don't feel embarrassed about what they might find."
Self-employed issues?
"We're here as allies in their process and want to do our best to get you into your new home. Likewise, clients who are, and have been, self employed will want to get this started early. For them, the best way to get pre-approved for a Chicago mortgage is to get professional eyes on their finances sooner rather than later."
So there you have it. If you were ever wondering what you needed to do to get ahead of competing buyers in the market and secure your dream home, it's get pre-approved now.
Of course if you're not quite ready to buy but just want to browse Chicago real estate listings, that's understandable!
We hope you've found this article helpful. If you've got any questions about the best way to get pre-approved for a Chicago mortgage, contact us.
https://bestchicagoproperties.com/wp-content/uploads/2018/04/iStock-641444180-cropped.jpeg
632
780
Jeff Payne
https://bestchicagoproperties.com/wp-content/uploads/2012/03/logo.png
Jeff Payne
2019-03-01 10:00:56
2019-03-27 08:27:17
Get Pre-approved For A Chicago Mortgage