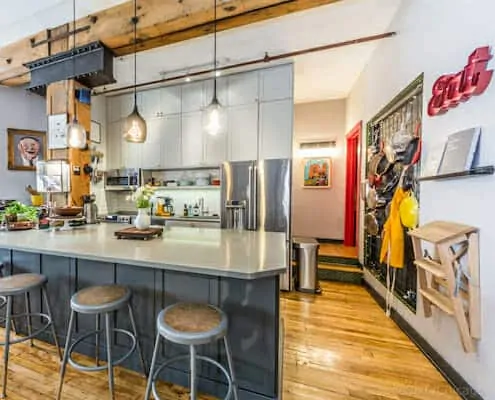 Chicago Loft Guide
Here you'll find information on buying and selling Chicago lofts, the latest Chicago lofts for sale, tips on what to look for in a loft and much more.
Chicago loft FAQs:
Current Chicago Lofts For Sale
Here are all the very latest Chicago lofts for sale. Browse fast, free and easy!
Which Chicago loft buildings are the best?
Here are some of our favorite "true" Chicago loft buildings by neighborhood. If you're seeking a vintage loft conversion, we recommend browsing these buildings as a starting point. We know many Chicago loft buildings and can assist you with buying, selling or renting in any building.
What are the Best Chicago neighborhoods for lofts?
The neighborhoods we serve with the best lofts for sale are the West Loop, South Loop, Printer's Row and River North.
There are of course others but these are former industrial areas and thus there are many interesting old buildings that are now Chicago loft conversions.
Click the links below to explore these neighborhoods and view the latest loft listings.
What should I look for in a Chicago loft?
Let's face it, some lofts are just far better than others.
Before you buy a Chicago loft, it's important to delve into the factors that make the space work with your needs.
For example, location, ceiling height, natural light, noise and the exterior condition of the building. And whether you want a soft loft or a true loft.
Let's take a look at each of these factors in more detail.
Great location
As with all real estate, location is the first consideration.
A building with a great location that works for you is of course paramount.
Public transportation, highway access, parking, restaurants and shops, parks and safety are a few important considerations.
But the importance of location doesn't stop at the doorstep.
It's important to also look at location within the building. Is it close to an elevator? A mile walk to the lobby? Where is your parking spot in relation to the unit? Day-to-day, this kind of stuff really matters.
Solid building
The physical condition of the loft building itself is often overlooked but in fact is just as critical or even more so than the condition of the unit itself.
Older loft conversions can be high maintenance. You'll of course want to be aware of any special assessments and building issues early in the process.
Don't waste time looking at loft units in problematic buildings. Work with an agent that knows the neighborhood and the loft buildings well.
The financial health of the association is just as important as the condition of the building.
Make sure to review the association's financial statement, declaration, bylaws and minutes of the board before you buy.
Windows, light, view
Many of Chicago's old warehouses were built on an entire city block.
For this reason, they are often big and square. And as a result, often Chicago loft conversion units are long and narrow stretching out to just one set of windows at the end. Thus creating a dark and dreary feeling. Especially in winter. No thanks!
For this reason, end units with windows on two sides are what you want. This brings you more light for those long Chicago winters.
Plus, look for "protected" view corridors. Those overlooking a park, canal, or facing down a street, where new construction will have a minimal impact.
And a nice view is always a bonus. That said, don't pay more for it as in Chicago views can quickly disappear with new construction!
Potential for improvement
Finally, it's always good to buy a loft that has some room for improvement.
Our client that bought the huge two bedroom West Loop loft pictured above was able to utilize extra living space to create a third bedroom.
Thus netting him a $100k profit when he sold just two years later!
True / hard loft or soft loft?
Either can be excellent alternative to a standard condo. Let's dive into the differences:
What is a true / hard loft?
In some cities these are referred to as hard lofts. In Chicago, we know them as true lofts. And they are, well, the "real" thing.
True lofts are basically old industrial buildings or warehouses that have been converted or repurposed into residential loft condominiums. These buildings have a history and when you buy a true loft you are buying a piece of Chicago history. Some of our favorite examples are an old brewery, a publishing house, a pencil factory, a Kodak manufacturing plant, a Nabisco bakery and a Singer sewing machine plant.
Many of these old buildings are massive, square structures occupying nearly an entire city block. As such, when converted to residential use, some true loft apartments tend to be long and narrow with windows only at the very end of the unit.
Pro: you own a unique storied space, a piece of history

Con: true loft floor plans can be narrow and dark
What is a soft loft?
Soft lofts are purpose built condos, not loft conversions. In Chicago, the soft loft building boom happened between about 1990 and 2010. There are not as many soft loft buildings being built today but there is still strong demand for soft loft apartment living.
These are basically condos built to look like old vintage lofts. As such, they often feature exposed duct work, high exposed concrete ceilings, walls of windows and partially enclosed bedrooms where the walls don't extend to the ceiling.
With soft lofts you find many of the same features as true lofts. But in a newer building with modern features like floor-plans designed to allow more light.
Pro: you often have more light and modern finishes

Con: soft lofts can feel cookie cutter
Conclusion
Here we've discussed the pros and cons of soft lofts vs. true lofts. And, we provided links to the best Chicago neighborhoods for loft hunting. In addition we provided a list of some of the best loft buildings in Chicago.
Moreover, we've provided links to all the latest Chicago lofts for sale including: artist, brick & timber, concrete, historic, industrial, live-work lofts, soft lofts, true lofts and and raw loft spaces.
"Working with Jeff at Best Chicago Properties is the best decision we could have made in searching for our West Loop loft."
"Jeff was both friendly and professional, and his knowledge of the Chicago real estate market was exceptional. Jeff devoted a huge amount of time to helping us find the perfect loft, and it was always clear he had our best interests at heart."