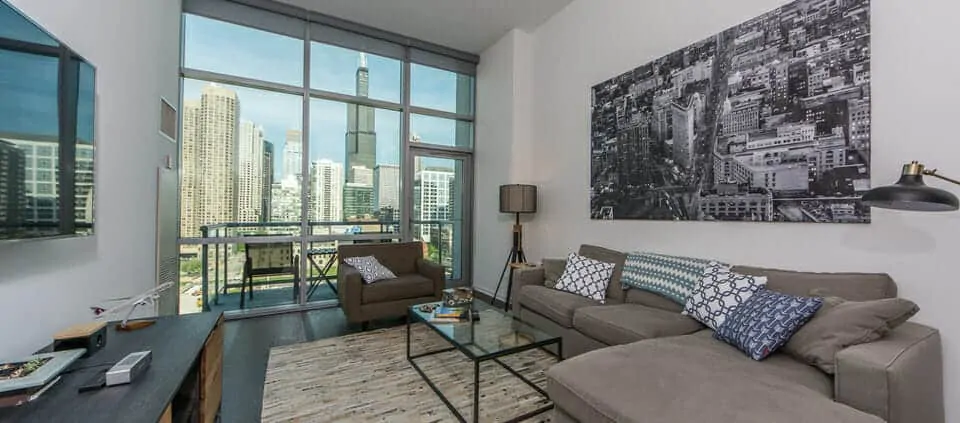 Best Chicago Properties, LLC
Selling A Chicago Condo For The Most Money
Selling a Chicago condo? Whether it's a vintage loft in Fulton Market or a sleek high-rise in the South Loop these tips will help you sell for top dollar.
Tips for selling a Chicago condo for the most money
1.  Price it right
Ok, you're thinking that's such a typical thing for a Realtor® to say. We know. But it's first on our list for good reason.
To sell a Chicago condo for the most money it's imperative that it's priced correctly right from the start.
Price it too low and you'll leave money on the table. Nobody wants that (except the buyer).
Price it too high and it will linger on the market and eventually sell for less than it would have if it had been priced right from the start.
Right or wrong, many buyers perceive a condo that's been on the market for more than a few weeks as overpriced. Worse yet, they may think there is something innately wrong with the unit.
So, invest the time up front. Ask the hard questions and don't just list it with the broker giving the best price on the CMA. Selling a Chicago condo for the most money starts with pricing it right.
2.  Improve the curb appeal
Yup, Chicago condos can have curb appeal. And it matters. Ask yourself, what do people see when they walk into the building?
A well-kept lobby free of trash, bad art, dead or dusty plastic plants and clutter or a dimly lit, unsafe and un-kept area?
Make sure your condo or loft building, lobby and grounds look as good as they can.
Go to a board meeting or talk to your condo board president if your building has fallen behind in these areas. You're paying a monthly condo fee for these things to be done right.
Selling your Chicago condo for the most money means getting what you've already paid for from your association.
3. Clear the clutter
This is one our best tips for selling a Chicago condo for the most money. Basically it's staging.  And it's so easy to do.
When you're selling a condo you want all potential buyers to focus on the home and not get distracted by all your stuff.
They need to picture themselves living in their new Chicago dream condo not find themselves wondering who those cute people are in that beach or ski trip photo. So remove distracting clutter like books, magazines, personal photos and unnecessary furniture.
And the art on the walls should be neutral with a broad appeal. Take almost everything off the countertops in the kitchen. You want buyers to see those nice counters and how much counter space they will have in their new condo.
Remove half the clothing from your closets and store it off-site.
4. Fix big problems
If your condo or loft has a big problem that will turn a lot of buyers off, don't try and justify not dealing with it…just fix it.
Old carpet…change it. Overly personalized paint colors or scuffed walls? Have your condo professionally painted. Don't do it yourself. Most of us are simply not that good at paining and it shows.
Selling your Chicago condo for the most money is easier when it looks professionally painted.
5. Fix small problems too
Sliding screen doors off track or have holes in the screens? Clean those tracks and fix the screen.
Replace burned out light bulbs.
Repair a garbage disposal that's too noisy or broken and by all means clean off that balcony or terrace.
Many buyers imagine themselves in a nice outdoor paradise during summer months and that's hard to imagine with all that Chicago grime and those dead plants out there!
6. Wash the windows inside and out
This is one our very best tips for selling a Chicago condo. Make the most of your light and wash those windows.
No problem on the inside but the outside may take some coordination with your condo building manager or board president.
Start early as clean windows are critical to making sure your condo or loft shows well.
Also consider the Best Time To Sell A Chicago Home, what season is it at it's best?
7. Professional staging
This is especially critical if you've already moved out or if your furnishings are going to be a major distraction for buyers. Your real estate broker can recommend some good professional staging companies. Investing a little money on staging could mean selling your Chicago condo faster and for more money.
8. Use social media
Use the power of social media to sell your Chicago condo. For example, if your condo is listed with us it will be featured on our website and hundreds of other real estate websites with awesome high-resolution photos and a 3D Matterport tour.
All you have to do is post the 3D tour link on Facebook, Twitter, Instagram or Pinterest so your friends and family can see it. Ask them to spread the word.
9. Keep it clean for showings
Hire a housekeeper to come in once a week to help you…it's money well spent. When your agent is having an open house, or the house is having a showing, make sure that you aren't there.
As a potential buyer, there is truly nothing more annoying and distracting than having owners in a condo when you're trying to look at it.
If you have pets and some pet odor then consider baking cookies (yes, I said it) before a showing, or lighting one of those fancy vanilla or cinnamon roll candles. Don't over do it.
10. Hire a Realtor® with expert neighborhood knowledge
For example, if you want to sell a West Loop condo for the most money, don't hire a broker with little to no experience in the West Loop. Sounds obvious right.
Well you'd be surprised how often we see condos listed by brokers who clearly don't know the market.
How can we tell? First, the condo is often either over or under priced. Or the listing broker doesn't want to make the trip to the neighborhood to show the condo.
Tempting as it may be, refrain from hiring that friend-of-a-friend who happens to hold a license. Nor should you hire your aunt Bee who lives in Oak Park and rarely makes the 10-mile journey to Chicago.
Resource: Questions To Ask Real Estate Agents Before Listing Your Home.
Your Chicago condo is one of your biggest assets, and this is no time to do someone else a favor.
Here's a map of Chicago neighborhoods we serve. At the moment selling a Chicago condo is fairly easy in most of them.
But selling it for the most money isn't easy. Improve your odds by doing some work before you get started and hiring an experienced real estate broker who is a true neighborhood expert.
Thanks for reading the 10 best tips for selling a Chicago condo for the most money. We hope these tips have been of help to you.
We're happy to come and look at your place and advise you as to what needs to be done to earn you top dollar. Have a Chicago condo to sell? Learn about the Selling Process or get a Bestimate and find out what your home is worth.
https://bestchicagoproperties.com/wp-content/uploads/2017/01/View-from-condos-for-sale-at-Emerald-1.jpg
640
960
Jeff Payne
https://bestchicagoproperties.com/wp-content/uploads/2012/03/logo.png
Jeff Payne
2019-02-20 07:00:49
2019-06-24 07:25:19
Selling A Chicago Condo For The Most Money