Humboldt Park Real Estate Guide
Here you'll find the latest Chicago Humboldt Park real estate for sale including Humboldt Park homes for sale plus information you need if you're considering living in Humboldt Park.
Best Chicago Properties has provided clients with Humboldt Park real estate expertise since 2007. We're here to help you, contact us.
Humboldt Park Real Estate For Sale
Here are the latest Humboldt Park real estate listings including Humboldt Park Chicago homes and condos for sale.
What's Best About Living In Humboldt Park?
There's a lot to love about Humboldt Park; history, culture, community, food and of course the park itself. Let's take a deeper look at what's best about Humboldt Park.
Humboldt Park real estate offers a wide variety of selection these days. The neighborhood has been undergoing considerable growth.
For example, in addition to older three flats, six flats and low-rise apartment buildings, there is now plenty of new construction homes. Specifically, new three flat condo buildings and expensive contemporary Humboldt Park homes for sale. This gives buyers quite a range from which to choose.
The neighborhood has three zip codes 60622, 60647 and 60651. It sits just west of Western Avenue and Wicker Park immediately south of Logan Square and just north of East Garfield Park.
The neighborhood's 207-acre public park, one of the largest in the city, is the perfect environment for a wide variety of outdoor recreation. The park is also home to a spectacular Rose Garden and a pair of bronze bison statues cast for the World's Columbian Exposition of 1893.
Public transportation here is via CTA bus and the Blue line. Driving is easy and the neighborhood is a short drive to I-290.
Iconic Boat House & Historic Stables
Humboldt Park is surrounded by some of the most recognizable sights in Chicago. For example, the iconic Boat House surrounded by expansive green space.
The park provides uninterrupted views of natural beauty that rival Grant Park. It's covered with revelers in summer and coated with snow in winter. A welcome respite from the urban speed all around it.
Living in Humboldt Park manages to balance outdoor areas with city life in a way few Chicago neighborhoods can. As such, it's no surprise then that this area has seen tremendous growth in popularity and price. All in just the last twenty years.
So, if you're looking for more information on living in Humboldt Park. Or need guidance about Humboldt Park real estate, contact us we're here to help.
History of Humboldt Park
The park is named for a famed German naturalist and geographer, Alexander von Humboldt. It is fitting this neighborhood honors the legacy of a man known for his magnum opus celebrating the wonders of the universe. Cosmos: Draft of the Physical Description of the World. Ironically, von Humboldt's only visit to the United States did not include a trip to Chicago. Nonetheless, one of the crown jewels of Chicago's Boulevard Park System simultaneously honors the city's respect for large spaces and rich immigrant history.
A Chicago Melting Pot
The neighborhood is an excellent example of Chicago's melting pot. Humboldt Park real estate quickly gained a reputation for attracting new immigrants and their families since its annexation in 1869.
The neighborhood was located just outside the city's updated building code zone following the Great Fire of 1871. So construction costs in the area remained substantially lower than neighborhoods closer to the city. And, it's demographic growth closely mirrored that of the rest of Chicago. Starting with Scandinavians, continuing with European Jews, Germans, and Italians. Then finally Latinos and African Americans.
Living In Humboldt Park Today
Today, living in Humboldt Park sees a much larger and more varied population. Various factors contributed to this change, both positive and negative. On one hand, huge waves of immigration (primarily Latino) brought a flood of new faces and dialects in the neighborhood.
Here Are The Latest Activities in Humboldt Park
On the other hand, economic downturn and a series of foreclosures in the early 21st century forced out many of the middle class residents. Though the same can be said of most neighborhoods, the primary driver behind population shift in Humboldt Park real estate has been an upward trend in both real estate prices and property taxes. These days, Humboldt Park Chicago homes are considerably more expensive than in earlier times.
Nexus of Culture and Community
Nonetheless, living in Humboldt Park today means living in a nexus of culture and community. Most of the spaces within its 219 acres are dedicated towards bringing people from around the city together.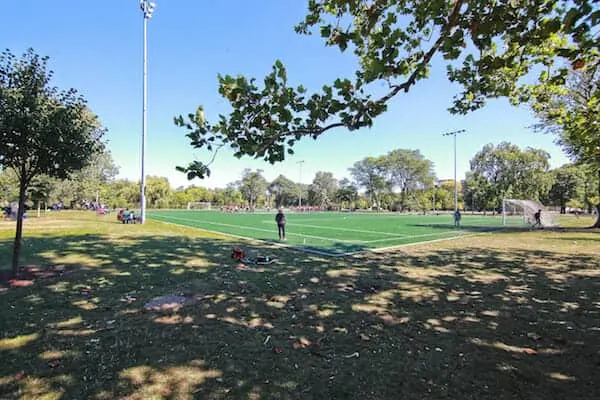 For example, it's large historic field house boasts a fitness center, gymnasiums, meeting rooms, and an inland beach. And for residents hoping for an outdoor experience, Humboldt Park offers plenty. For example, an artificial turf soccer field, baseball diamonds, various tennis courts and playgrounds. And there's even a replica of Wrigley Field known as "Little Cubs Field".
Plus, Humboldt Park is one of the best neighborhoods for dogs in Chicago and also one of the most bike-friendly neighborhoods in Chicago.
With community support, local Puerto Rican leaders leased the historic Humboldt Park stables near Paseo Boricua. It was renovated into a very cool gallery space. And now houses the nation's only museum fully dedicated to the preservation and promotion of Puerto Rican arts and culture.
Additionally, Humboldt Park is located in a hub of activity beyond sports and culture. It's verdant spaces are often rented for graduation parties, family gatherings, and weddings. And how could it not? Humboldt Park's iconic, 50-foot steel Puerto Rican flags are a city wonder and guide post for anyone navigating Chicago's grid. These features make Humboldt Park Chicago homes attractive for many people.
Local Foods
Looking for a place to start? If you're in Chicago, food is the logical place. And if you're living in Humboldt Park, that means you need to sink your teeth into a jibarito.
Ostensibly a sandwich, the jibarito replaces bread with a pair of fried, garlic-drenched plantains. And lends itself to the filling of your choice: chicken, steak, or even vegetarian. For a particularly decadent experience, ask for the lechón. Though often only available on special days, juicy marinated pork sandwiched between rich plantains is a treat your body won't ever forget.
Next, for those foodies who prefer lighter meat, delicious chicken dishes are in overabundance when visiting or living in Humboldt Park. Papa Pollo, a neighborhood mainstay and famous BYOB locale, offers a dish lovingly called el pollo chon con labor de lechon: the great chicken with the flavor of pork.
Though the chicken's never even in the same room as the pork, the special marinade will fool your taste buds and etch itself into memory.
Neighborhood Taverns
And if you're seeking a more traditional fare, you can always wander through the Sportsman's Club. It's an intimate neighborhood tavern with a history reaching back nearly a century to the area's first Polish immigrants replete with antique taxidermy.
If stuffed animals make you uneasy, don't exit through the front door and instead escape onto the patio. Summers at the tavern are host to the Backyard BBQ series. This is where every Sunday showcases a different restaurant's fare. For example, on the menu you'll find everything from big names like Monteverde and Publican. To lesser known but equally delicious local eateries. And, taxidermy notwithstanding, dogs are welcome.
Humboldt Park Real Estate Pricing
Over the years, affordability has always been a big draw to the neighborhood. And renters can still delight in knowing their monthly rent in Humboldt Park remains reasonable for an area that provides so much versatility and access to the the Loop.
Similarly, active and recently sold condos often sell between the ranges of $375,000-$425,000. That's a great value. Thus making Humboldt Park real estate an attractive option for first-time home buyers. Or anyone who wants a balance between urban lifestyle and suburban outdoor activity.
When it comes to Humboldt Park Chicago homes for sale, buyers may find the area a little more difficult to find their dream home. Because typical houses in the area tend to run towards smaller size cottages. Though there are of course a few new single family homes sprinkled throughout the neighborhood.
Thanks for reading! Let us know if we can help you!
Talk With Us
We've enjoyed helping our clients in the neighborhood since 2007. It's never too early to get started!