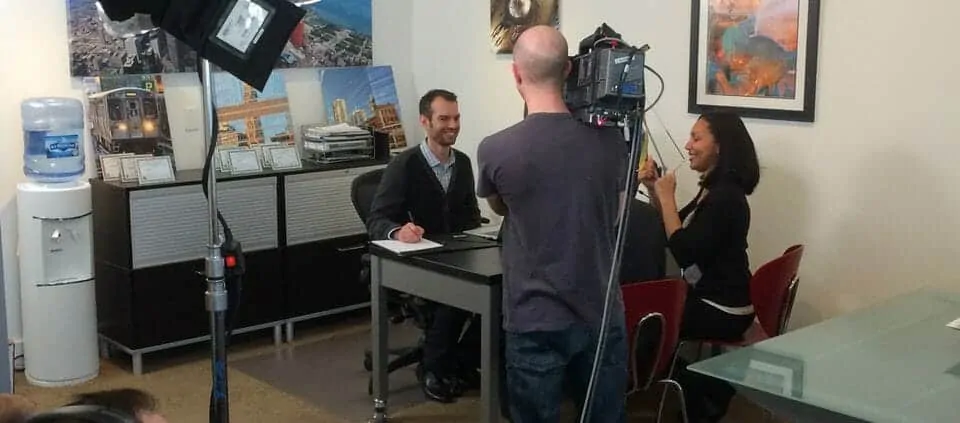 Best Chicago Properties, LLC
Hey Chuck, what was it really like to be on HGTV House Hunters Chicago?
I thought the filming was a really fun process. I'm always interested in the "behind the scenes" stuff, so I was always asking the film crew questions about the sound, lighting and the camera. There were some long days, but it went really fast because we were having so much fun.
How did you get selected to be on HGTV House Hunters Chicago?
I've been in contact with producers at PieTown TV over the past few years to do a show. In this case, the buyers actually asked if I'd be interested in filming House Hunters with them. I was going to ask them the same question, so it was a perfect match!
Is this your first-time doing reality TV or should we already know your name?
Other than a quick snippet on HGTV's Design to Sell, that was filmed in the Chicago's South Loop, this was my first reality show feature. I suppose if you searched Google for "amazing Chicago real estate broker", I'd turn up there, too. Sorry – couldn't help myself :)
Did you have to tape a video interview or anything before they picked you?
There is a audition process where you submit a video with an application. I filmed it really quickly in the office before the other agents came in to work. One take!
Any assistance with make-up / hair and wardrobe?
I had to do my own hair, which takes all of 5 seconds. And there was no make-up on me for the filming. The camera was kind to me. The wardrobe was pretty stressful, though. I would bring a few different shirts everyday and have the director help me choose. Usually, my clothes were deemed unfit for tv. I have a lot of shirts with stripes and checks that aren't very camera friendly. That's why you see so many solid colors on tv shows.
Who selected the properties that you showed your buyers?
I chose the properties based on the buyers search criteria. That is my job, of course :)
Did you get to preview or edit the show before it first aired?
Not at all. I spoke with one of the shows staff members a month before it aired and she said it was a funny episode. Funny? What does that mean?? I was nervous and excited because I had no idea how it would turn out. We had a small group of friends come by for the airing ad went through a lot of wine before the big debut.
Would you do it all again…maybe House Hunters – Where are They Now?
I would love to do another episode, either "Where Are They Now" or even getting some new buyers involved with House Hunters. Stay tuned!
Read Real Estate Reality TV Show Expectations
Or, if you're hunting for a condo or loft in Chicago, talk to Chuck! We also invite you to explore the latest listings with the Best Chicago Real Estate Map Search.