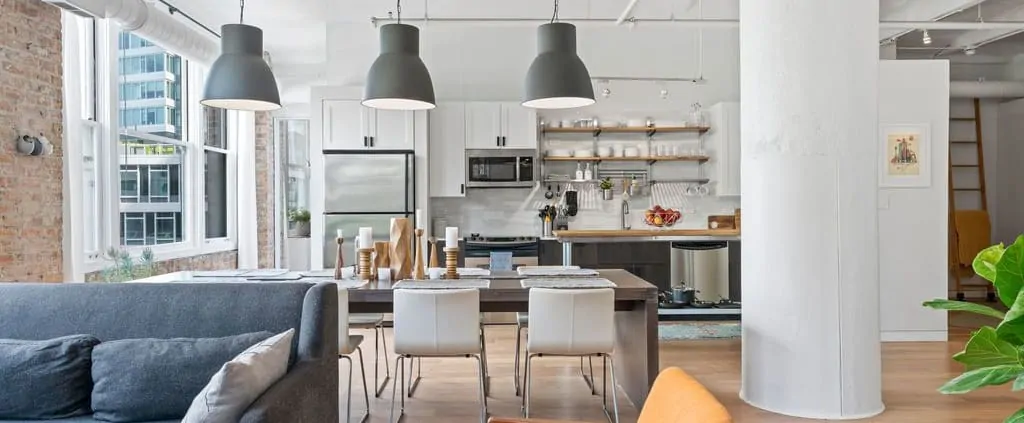 Best Chicago Properties, LLC
Chicago Condo Improvements That Add The Most Value
Thinking of selling your Chicago condo? Here are five cost effective Chicago condo improvements that add the most value.
Many condo buyers are willing to pay top dollar in exchange for a turn-key unit with nothing to do but move-in. These improvements are an easy and affordable way to give them what they seek and deliver the results you want.
1. Upgrade kitchen appliances
The kitchen is truly the heart of every home and can make or break the perceived value of your condo. That said, renovating a Chicago condo kitchen can be really expensive and, let's face it, a huge hassle.
Often there is more value in simply installing new appliances like a new dishwasher, refrigerator, oven/range and even lighting.
It's super easy and you're paying only for the item and basic installation.
For these improvements, you likely won't need permits or approval from your condo homeowner's association (HOA).
We recommend buying appliances that correspond with the sale price you're seeking. Abt.com offers a broad selection, prices comparable with national chains but with excellent service.
If your kitchen needs more work, consider replacing the hardware, lighting, countertop and backsplash.
2. Improve the bathroom
The next area of improvement that will increase the value of your condo is the bathroom. After the kitchen, bathrooms hold the most opportunity to wow a potential buyer.
More than ever, buyers today seek a spa-like experience.
Improvements like a new sink, faucet, vanity/ vanity top and light fixtures can quickly and easily boost your condos value.
However, unless your unit is in a higher price bracket, we'd recommend against the more complicated and expensive improvements. For instance, new heated tile flooring, tub/shower replacement and that amazing rain/ steam shower.
As with the kitchen, for the bath it's often more profitable for resale to not do a full renovation.
3. Hire a professional painter
Next up is paint. A fresh coat of paint on all the walls, trim, ceiling and doors will totally transform the look of your condo without breaking the bank.
Unless you have a ton of experience painting, here it's best to hire a pro.
We've seen some really bad DIY paint jobs over the years. It's just sad to waste your time and money and end up with a condo that doesn't show well because of a not-so-great paint job.
Also, when repainting, chose an elegant high quality neutral white or gray paint that creates a positive atmosphere. This allows the buyer to focus only on what it would be like to live in the space.
Quality brands like Benjamin Moore and Sherwin Williams offer reasonably priced products with seemingly endless color choices.
For a more on-trend "designer" color palette explore the amazing paint selection at Farrow and Ball. But remember light and neutral colors will help your place sell.
One more tip is to limit your colors to one or two. This helps make the rooms flow and the space feel larger.
4. Refinish/ replace flooring
Refinishing a real wood floor in your Chicago condo can cost anywhere from $3.00 to $5.00 per square foot. However, it might be worth it as when combined with a professional paint job and new appliances, it'll make the unit feel brand new.
By the way, if you have "engineered wood" floors it still may be possible to refinish, talk to a flooring professional. If the floors are too far gone, then consider replacing them entirely with flooring that corresponds to the price point you seek.
Luxury vinyl flooring can be a good choice for some condos and is more affordable than hardwood. That said, we don't recommend vinyl flooring for authentic lofts for obvious reasons.
Also, it's best to avoid gray and stick with on-trend warmer wood tones.
You'll want to familiarize yourself with your HOA's bylaws pertaining to this prior to starting the project.
5. Focus on the home office and outdoor space
These are the final areas on our list of Chicago condo improvements that add value.
Of course, working from home has now become the norm for many. As such, home offices and outdoor spaces are more essential than ever to today's Chicago condo buyers.
If you haven't already done so, consider transforming that empty corner, den or second bedroom into an inspiring home office.
Here you can let your creativity rein! Add an accent wall of stylish (but not too crazy) wallpaper or paint.
Explore adding built-in storage/ shelving and fresh lighting to make the space inviting and Zoom ready. Ikea home office offers an affordable selection.
Moreover, make the most of the balcony, terrace or patio. You wouldn't believe how many Chicago condos for sale fail in this area!
Nobody is inspired by a filthy balcony with layers of city grime. Start by deep cleaning and then stage it with an attractive indoor-outdoor rug, stylish chairs, table and, depending on the season, some fresh plants. Make this an ideal area to work or an oasis for those much-needed breaks.
And speaking of cleaning, top off these 5 Chicago condo improvements that add the most value by investing a few more dollars in something basic. Have your condo and windows professionally cleaned before your broker has the photoshoot.
Conclusion
To conclude, from our experience these are the 5 Chicago condo improvements that add the most value. When selling your condo, updates in these 5 areas can each individually increase the chances of selling your place faster for more money.
Need help choosing which improvements to make? Talk with us.
Own a single-family home? Check out 9 home improvements that add value.
https://bestchicagoproperties.com/wp-content/uploads/2020/08/Photo-of-open-loft-living-at-Printers-Row-loft-renovation-at-801-S-Wells-Chicago-IL.jpeg
683
1024
Jeff Payne
https://bestchicagoproperties.com/wp-content/uploads/2012/03/logo.png
Jeff Payne
2023-01-31 11:29:40
2023-01-31 15:30:25
Chicago Condo Improvements That Add The Most Value