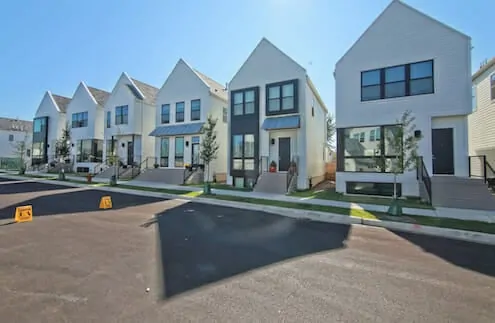 Kilbourn Park Real Estate Guide
Welcome, if you're considering living in Kilboun Park, here you'll find helpful information including the latest Chicago Kilbourn Park homes for sale. Plus much more!
Living in Kilbourn Park means enjoying a variety of restaurants, plenty of shopping and excellent schooling options. Here are some resources to assist you:
We've provided clients with Kilbourn Park real estate expertise since 2007. Have a question? Give us a call at 312-767-7744 or send us a message, we're here to help.
Kilbourn Park Real Estate For Sale
Here are the latest Kilbourn Park real estate listings including Kilbourn Park homes for sale.
Living In Kilbourn Park
The Best Of City And Rural Living
Kilbourn Park real estate is surrounded by green grass, lush trees, and vast open spaces. Perhaps none are as famous as the titular park from which the neighborhood gets its name. The actual Kilbourn Park is a sprawling green space that covers several city blocks. Home to basketball courts, baseball diamonds, a few large fields, and both a trail and track, Kilbourn Park is the spot for residents enjoying the outdoors during Chicago's beautiful days.
Learn More: Chicago Park District's Kilbourn Park
Moreover, Kilbourn Park offers home buyers various architectural choices, great shopping, theater, gardening, sports and history. All these benefits make living in Kilbourn Park popular. Let's take a closer look.
Architectural Choices
Kilbourn Park real estate is a mix of housing options. Kilbourn Park homes for sale represent many architectural styles. For example, here there are contemporary lofts, modern condos, classic bungalow homes and brownstone multi-unit buildings. Pretty much something for everyone's taste.
Buying Kilbourn Park real estate means getting into an up and coming neighborhood while it's still affordable. Recent developments in the area include Base Camp Old Irving residential community, an updated Grayland Metra stop, new retail and restaurants options at the famous Six Corners, and several renovated buildings and new construction.
Plenty of Retail And Shopping
Within walking distance, Kilbourn Park residents can quickly find themselves grocery shopping at Jewel-Osco or Tony's Finer Foods. Or taking a break from cooking at one of the many international dining options.
These include Asian fare, Mexican cuisine, world-famous deep dish pizza and a litany of bars and grills. Bargain hunters can delight in the nearby dollar stores and off-rack outlet stores. While specialty consumers have their druthers too with boutique pet stores, high-end retail and bridal boutiques.
Kilbourn Park History
The Irving Park District formed in 1910 with the express mission of creating and managing parks for its tree-lined, middle-class neighborhood. Just about fifteen years later, the district acquired the site for Kilbourn Park. It did so by pooling together parcels. Then tilling, planting, improving, and building the area into what surrounds Kilbourn Park today.
Explore Neighboring Irving Park
Sports And Urban Gardening Together
By the late 1920s, the park's notable common areas and public features were comprehensive. They included several athletic fields, a running track, tennis courts and areas to play horseshoes. Plus an 18-hole putting green, two playgrounds, a children's wading pool, a sand box, and penned-in rabbits at a petting zoo. Kilbourn Park also boasts a field house and greenhouse. Today, residents living in Kilbourn Park use the field house for a variety of community activities, including as a voting and polling station.
The greenhouse was once used to display tropical plants and propagate outdoor plants for use throughout the entire Irving Park District. These days it is home to one of the largest and most successful urban garden and farming initiatives in the city. Local residents flock to their plots throughout the warmer months. And eat fresh veggies with their home-cooked meals.
Architect Clarence Hatzfeld
All three of the significant buildings surrounding Kilbourn Park were designed by Clarence Hatzfeld. He was trained in the office of renowned Chicago architect Julius Huber. Hatzfeld became known for numerous north- and northwest-side park fieldhouses, commercial buildings and residences. During the Depression, Hatzfeld found himself employed at the Chicago Park District. The District was formed in 1934 through the consolidation of the city's 22 independent park agencies. Hatzfeld's career would eventually see him serve in Washington, D.C. as the Federal Works Administration's Recreation Technician.
Perennial Gardens
Years later, in the late 1930s, the Chicago Park District decided to open a large perennial garden in Kilbourn Park. Though originally garnering support and tending, this original garden fell into disuse and eventual disrepair. A lack of maintenance meant residents living in Kilbourn Park lost their community garden for a time.
A recent wave of interest in gardening and community agriculture has meant Kilbourn Park residents now have their local farm back running and better than ever. Today, the Kilbourn Park garden boasts a robust volunteer program in the greenhouse and a vast, lush perennial garden available for residents to walk and enjoy.
Portage Theater
If gardening isn't your thing, or it's simply too cold to spend much time outdoors, living in Kilbourn Park means having the option to stay warm indoors at the nearby Portage Theater. Opened on December 11th, 1920, this unique piece of Kilbourn Park was famous for being the first theater specifically built for film rather than vaudeville in the area.
Though the theater fell into disrepair and eventual shuttering in 2001, the 1300+ seat theater saw a reemergence during its grand reopening in 2006. Kilbourn Park residents today can join various media groups at the Portage Theater, like the Silent Film Society of Chicago and the Northwest Chicago Film Society. Additionally, the Portage Theater now hosts both the Chicago Polish Film Festival and the Chicago Silent Film Festival.
Conclusion
If you seek a Chicago neighborhood that blends urban practicalities with a green parklike vibe Kilbourn Park shouldn't be missed!
Talk With Us
It's never too early to get started!